Introducing the  LK 83XP  dual power scientific calc  suitable
for KS 3, 4 and especially GCSE.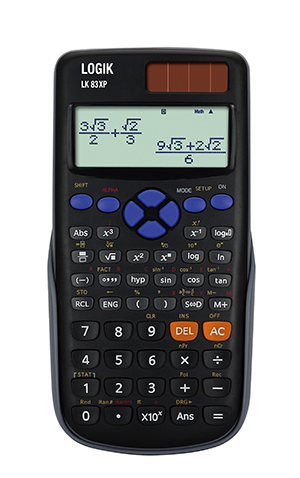 Battery power with solar back-up to prolong battery life.
If you've been using the Casio FX 83GT+ or the Casio FX 85GT+ and would like your students to  continue to use a very similar calc then the Logik  LK 83XP could well fit the bill.
The LK 83XP  has 252 functions with "natural display"  …so students can enter expressions as shown in textbooks and worksheets.
This calc. has all the  functions and features that your students will need for their KS 3 and KS 4  and GCSE maths studies.
Includes prime factorisation, number tables, random numbers, stats calculations, number tables, algebraic logic, trig functions, regression analysis,  hyperbolics, log / anti-log, nine memories etc.
Hard plastic keys for durability and a  slide-on  cover to protect the keyboard.
 Due to the recent significant increases in shipping costs from China (where   LOGIC calcs are made)   to the UK,  we are increasing the prices of LK 183,  LK 83XP and LK 183MX  calcs by  40p each.  This is not a decision we have taken lightly but believe that it is  necessary to enable us to  continue to provide  a high standard of service to our
customers.
Logik LK 83XP
Excellent build quality  and reliability and with a THREE year warranty  (excludes damage to the LCD)   Highly recommended.
       £  5.88   (100+)         £  5.92    (40+)           £  5.94    (1-39)
Class set of 30 calcs with a Gratnells storage box, foam and lid   £  184.60
Some of you may have heard  about the shortage of  some components used in the manufacture of computers and calculators. This is adversely affecting the lead time between orders being placed and when they are ready for shipment.   In addition  there is still a measure of disruption in sea freight between the far east (particularly China) and Europe,  with the result that  space in shipping containers is, at the moment  somewhat uncertain.   We will do all we can  to ensure that we have enough stock for our customers.  I am sorry to be "the bearer of unwelcome news" but hope that the information above will at least put you in the picture as to what is going on.  
NB. Prices of products do not include VAT     Delivery extra.